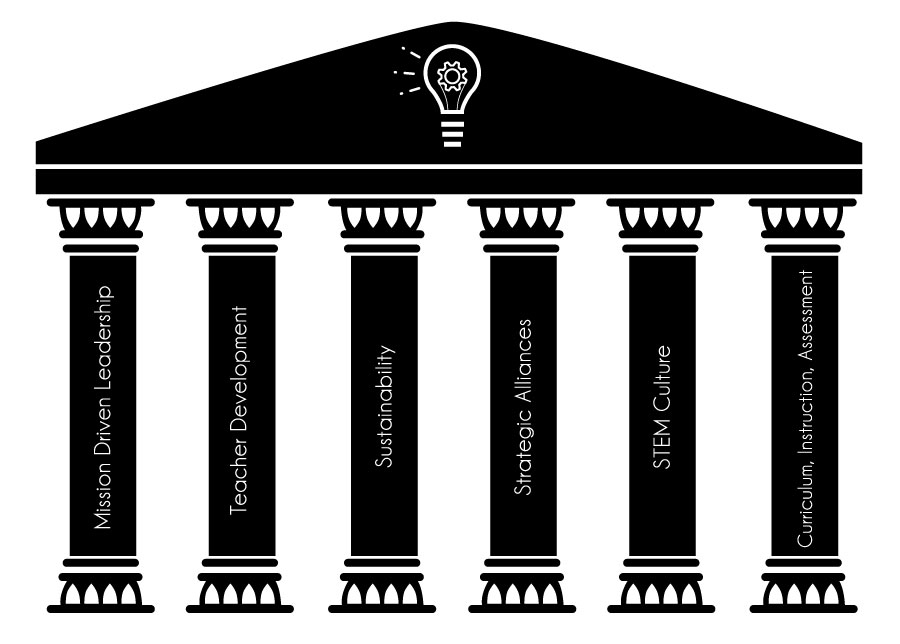 Pillars of Excellence
The Pillars of Excellence is a comprehensive tool for schools and districts focusing on STEM education and is a part of the STEM Experts STEM School of Distinction program.  The pillars were created using the most recent research and best practices in STEM education.
Pillar 1
Mission Driven Leadership
Includes followup meetings with leadership to check and clarify progress over duration of partnership with STEM Experts program.
Pillar 2
Teacher Development
Creating a plan for ongoing growth and improvement.  Design the profile for a STEM teacher and develop PLC Process/Protocols to evaluate Unite Design/Instruction.
Pillar 3
Sustainability
Strategic planning that includes opportunities for continuous improvement and evaluation.
Pillar 4
Strategic Alliances
Identifying multiple pathways for communication that are culturally responsive for all stakeholders including family and community partnerships.
Pillar 5
STEM Culture
Focuses on developing a culture of STEM that supports and encourages students and families while identifying partnerships to support STEM efforts.
Pillar 6
Curriculum, Instruction, Assessment
Deep dive into integrated STEM focused curriculum, unit design, instructional practices and assessment. Develop a PLC Process/Protocols to evaluate unit design
THANKS TO OUR SUPPORTING PARTNERS. VISIT THEIR SITES FOR MORE INFORMATION & RESOURCES