Cannon Elementary
Congratulations to GCISD Cannon Elementary who has been recognized as the 2020-2021 ITEEA STEM School of Excellence!  https://www.iteea.org/STEMschoolofexcellence.aspx What an honor it has been to work with the teachers, students, administrators, and staff over the past 8 years as they embarked on a journey to go "where few had gone before".  Their dedication and perseverance has paid of in the scores of their students and the engagement of the community.  Cannon is just one of 10 schools in the nation to be recognized and is the ONLY one in Texas. The STEM School of Excellence program recognizes outstanding schools for their commitment to providing a robust Integrative STEM education program.
Schools recognized as STEM Schools of Excellence exemplify outstanding leadership in the field of STEM education. Recognized schools undergo a rigorous application process requiring detailed documentation to demonstrate a strong Integrative STEM program. A panel of reviewers reach consensus that the documented evidence represents excellence in Integrative STEM education.
ITEEA created the designation as a way to officially recognize those schools whose teachers, administrators, and other stakeholders are providing a meaningful STEM education experience for students. By highlighting these schools, ITEEA hopes to help others learn effective best practices and continue sharing them more broadly into the larger STEM Education community.
https://can.gcisd.net/news/what_s_new/i_t_e_a_a_school_of_excellence
Whaaat is quantum?
 Change can be painful, but not as painful as recognizing that you got "left behind" because you did not change. We are excited to be a part of the Quantum Movement that is expanding into the K-12 schools and curriculum which requires all of us changing our perception of the world around us and how we teach.  There is more information about the quantum changes on our link or at quantumforall.org, but here is a recent article in the UTA Winter Magazine. UTA winter magazine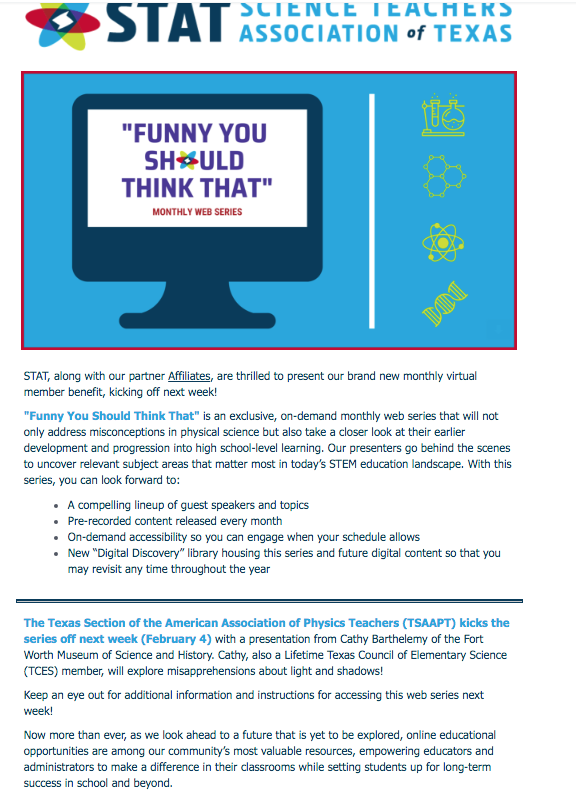 Understanding Light and Shadows
We are pleased that a video prepared for STAT was selected as the first highlight feature video for "Funny You Should Ask That..."   For more information on the series, go to https://www.statweb.org/
THANKS TO OUR SUPPORTING PARTNERS. VISIT THEIR SITES FOR MORE INFORMATION & RESOURCES